"Have you ever had the privilege of being in the room and watching a master in action –
someone who is the best in the world at what they do?
Did you ever have a chance to see Michal Jordan play basketball – in person?
Did you ever have a chance to see someone like Poet Laureate W. S. Merwin share their lyrical poetry – in person?
Did you ever have a chance to see your favorite author read their work – in person?
Well, that's what you're going to have a chance to do when you see Sandra Joseph.
You get to see someone who has achieved something in their profession no one else has.
I'm not exaggerating.  Sandra has done something no one else in the world has done.
Sandra's riveting, take-you-behind-the-scenes keynote is a one-of-a-kind opportunity."
-Sam Horn, Founder/CEO Intrigue Agency
Sandra Joseph starred as Christine Daaé in The Phantom of the Opera for 10 years and more than 1,500 performances.
She holds the record as the longest-running leading lady in the longest-running Broadway show of all time.

Sandra is the co-author/creator of the audio learning program
Your Creative Soul: Expressing Your Authentic Voice
with five-time New York Times best-selling author Caroline Myss
(Sounds True, 2014).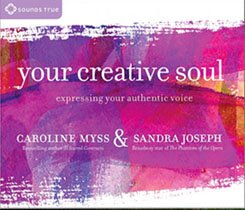 Sandra is currently bringing her voice to corporations and conventions in a one-of-a-kind keynote
program that includes a private mini-concert of songs she performed on Broadway.
Sandra's Clients include: