"People were coming up to me with tears in their eyes thanking me for our event with Sandra."
– Sal Salvo, Summit Financial Resources, Inc.
Raise Your Next Client Event to New Heights
Imagine inviting your clients to an intimate peek-behind-the-curtain "fireside chat" and private mini-concert with a Broadway legend. In Sandra's guest appearances at client appreciation events, she shares the inspiring story of how a shy kid from Detroit with crippling stage fright became the longest-running star of Broadway's most successful show. And she treats your guests to a heart-opening selection of the best-known songs from The Phantom of the Opera.
In your client appreciation event with Sandra, you and your firm take center stage. After enjoying cocktails and hors d'oeuvres or dinner with your clients, you introduce Sandra, interview her, (suggested questions are provided), then sit back with your guests and enjoy a private mini-concert by one of Broadway's most celebrated voices.
"I began doing client appreciation events with financial advisors, but I love doing them for other businesses as well. I not only get to share my story and sing songs from Phantom, but I get to play a role in deepening the connection between business owners and their valued clients." – Sandra Joseph
Testimonials

"As a coach to some of the most successful financial advisors around the world, I know it can be challenging to come up with ideas for an event that top clients will be excited to attend. Even more difficult is to have a client event where they want to bring their affluent friends as well.
What's great about a client event with Sandra is:
Everyone knows Phantom (your clients and their affluent friends may have even seen her in the lead role).
You have an opportunity to connect with clients and prospective clients at an event that's about celebrating success and being entertained.
Your guests will be awed by Sandra's talent, but equally impressed by her story. She is a humble, down-to-earth person who has faced real struggles — as we all have — along the road to success.
The only challenge you'll have with your event is that it may be hard to follow up on all the goodwill created and introductions made from your clients."
John Bowen, Founder and CEO, CEG Worldwide, LLC

"People were coming up to me with tears in their eyes thanking me for our event with Sandra. The way she engaged the audience with her warmth and authenticity was beyond description. Our guests left with a memory which will last them a lifetime."
Sal Salvo, Summit Financial Resources, Inc.

"Sandra"s inspiring message and songs transformed our client appreciation event into a powerful statement about our brand and reinforced our core message that true wealth is about much more than money. It's about pursuing your dreams and making your life count. Our clients are raving about her performance. Our event with Sandra elevated our firm in the minds of our clients and prospects."
Kelly Ashton Bradley, Hammond Iles Wealth Advisors

"We were a bit nervous putting on a client appreciation event with Sandra because we had no experience being on stage or interviewing anyone. What surprised us was how easy she made the whole thing. Her availability beforehand and willingness to provide input into the evening's events made the planning and execution very easy. It was a unique and powerful experience that stands out among any other appreciation events that clients and prospects may have attended in the past. Having Sandra as our guest instantly increased our credibility. We got a ton of positive feedback."
Peter Florio, The Florio Wealth Management Group 

"I saw Sandra speak and sing at a professional conference and I knew instantly that I wanted to book her for our client appreciation event. She is amazing! We received wonderful feedback from our clients about how engaging she was through her music as well as her story. It was a pleasure meeting and working with Sandra."
Aaron Kowal, Kowal Investment Group 

"Yesterday the telephone rang many times and my e-mail box filled with clients who took time to call or write just to say "thank you" for a wonderful evening on Thursday. Despite her tremendous success on Broadway, Sandra is a very humble, down-to-earth, person whose life story can be felt and identified with by everyone hearing it. We have all faced challenges similar to Sandra's, which is what made my interview of her so touching and inspirational. To then top the evening off with a performance of her extraordinary talents accomplished just what we had hoped for: a remarkable evening…an event that our team, colleagues and clients will talk about for weeks, months and years to come."
Greg Hammond, President, Hammond Iles Wealth Advisors
A Convenient, Turn-Key System
Drawing from her experiences at numerous appearances at client appreciation events – an important marketing staple for financial and professional services firms – Sandra and her team have gathered the best practices and materials from these events and assembled them into a convenient, turn-key system for event sponsors. Sample "Save the Date" letter and "PLAYBILL" (invitation) below.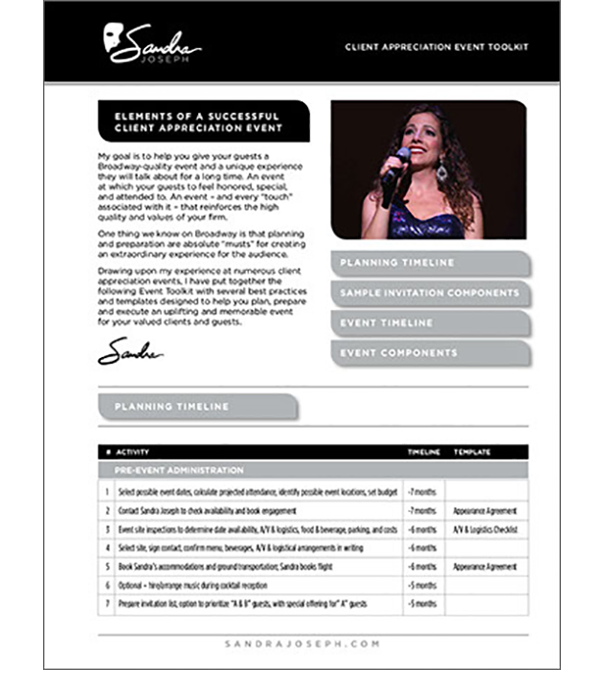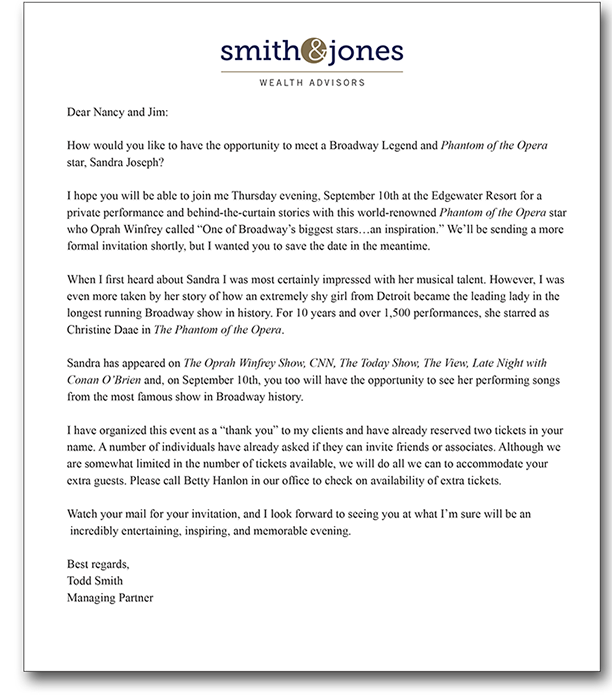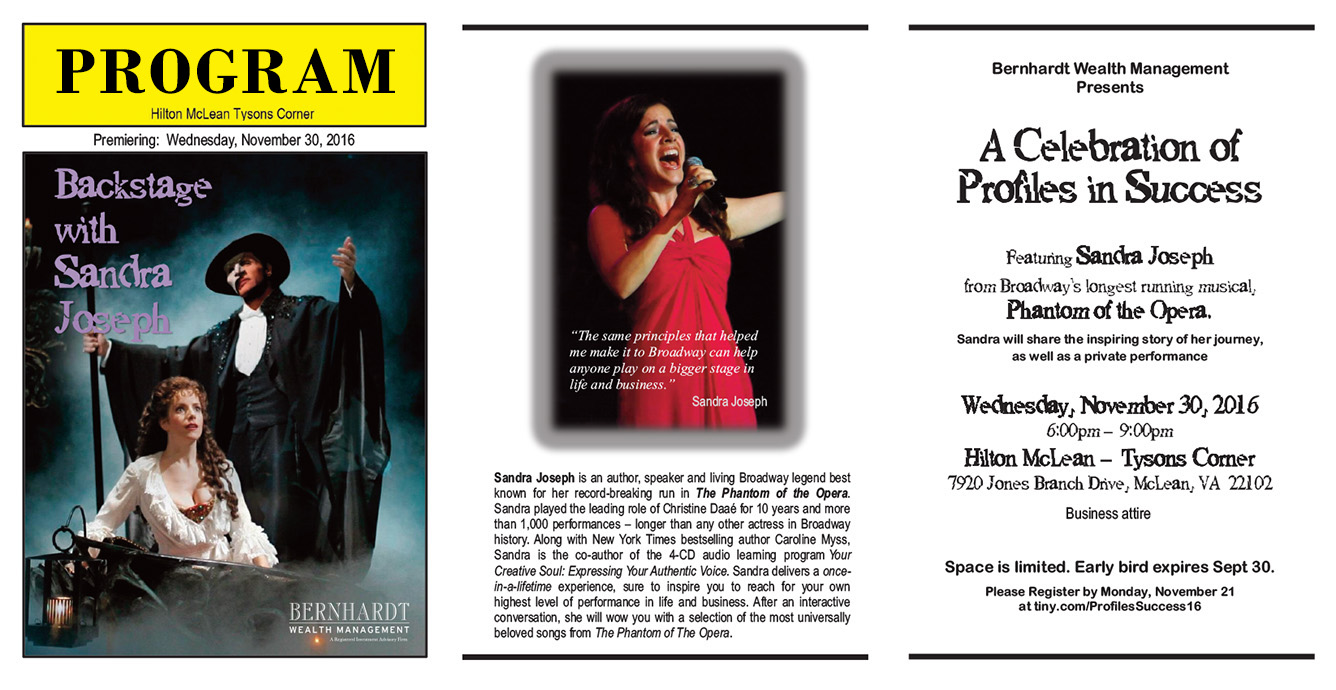 Watch a 3-minute video of Sandra's recent guest appearance at a client appreciation event.